Justice tells business owners to call police on people who don't comply with new 'ultra mandatory' mask mandate | Health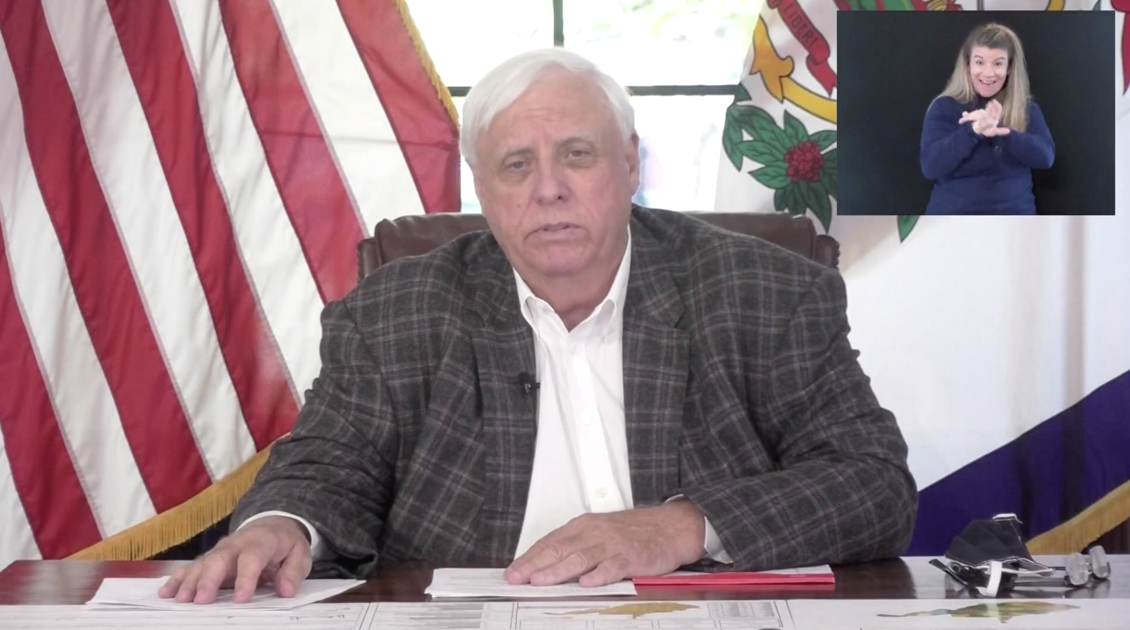 West Virginia Gov. Jim Justice on Friday tweaked his mask mandate, but told West Virginia business owners and operators that it still was their responsibility to enforce the mandate at their businesses.
Justice urged business owners to call the police on people who refused to wear masks inside of their businesses and said the business owners and operators themselves could have officers called on them if they didn't enforce the new executive order.
The new "ultra mandatory" mandate was part of a series of executive orders Justice announced during his COVID-19 news conference Friday morning, two days after he told West Virginians who re-elected him to a second term earlier this week that he didn't know what else he could do to limit the now record-breaking spread of the virus in the Mountain State.
"None of us want to do more with the restrictions and the rules and the closure and the postponements and the delays and all of that," Justice said. "None of us want to do more. We want to be able to live our lives and go on about what we're doing. West Virginia, this thing's bad, and it's getting worse all across our country. West Virginia, you are the oldest, and you are the most chronically ill. I love you. I love you with all my soul, and I want absolutely nothing but good, and I want you to be protected."
Justice also on Friday announced that there would be no in-person classes at private or public schools from Thanksgiving, Nov. 26, to the following Wednesday, Dec. 2.
Students participating in virtual learning still will have class as-scheduled, and students taking classes in-person will return to school on Dec. 3, West Virginia Superintendent of Schools Clayton Burch said. Meals also still will be available on their regular schedule during the days schools are closed, Burch said.
Per another executive order, student-athletes participating in winter sports – basketball, wrestling, swimming, cheerleading — and children participating in pee-wee leagues, travel sports leagues, and any other sort of organized team sport would not be able to begin practice until Jan. 11 in an effort to slow the spread of the virus after the holiday season.
At the request of band directors throughout the state, Justice also canceled all marching band and concert band festivals for the rest of the year.
As of 10 a.m. Friday, 565 West Virginians had died of COVID-19.
At the time of the news conference, there were 339 people confirmed hospitalized with coronavirus, and 111 of them were being treated in the intensive care units at their respective hospitals, the most people in ICU at one time so far, according to DHHR data.
More than 153,000 new coronavirus cases were diagnosed Thursday throughout the United States, the highest number of new cases reported in the country in a single day since the pandemic was declared, according to The Washington Post.
Effective this Saturday, all West Virginians older than 9 will be required to wear a face covering at all times while indoors, as long as they aren't in their own homes.
Restaurants and retail shopping businesses will remain open, but the mandate requires that restaurant patrons only take off their masks as they actively consume food and drink. In addition to young children, people who have trouble breathing or cannot remove a mask without assistance are not required to wear a mask, Justice said.
People who don't comply with the mask mandate can be charged with obstruction, Justice said during the news conference.
In the event that the mask mandate isn't effective, Justice said he would consider shutting down businesses, but he didn't articulate a threshold of new COVID-19 cases, deaths or other data that he would measure to decide when he would shut down businesses, saying he was trying to be optimistic about West Virginians' response to the mandate and new executive orders.
About 45 minutes before the governor's news conference began, U.S. Sen. Joe Manchin, D-W.Va., released a statement urging Justice to update his mask mandate with an enforcement mechanism.
"I don't expect an enforcement mechanism will be popular but clearly what we are currently doing is not enough to slow the spread," Manchin said. "If we can't get our COVID-19 cases under control, our businesses, families and communities will suffer. Properly wearing masks allows us the opportunity to keep our schools and economy open. It's up to us to take action and do our part to keep our fellow West Virginians safe by wearing a mask in public indoor spaces."